AIT Announces Taiwan Finalists for 2010 Democracy Video Challenge
PR-1024E | Date: 4/20/2010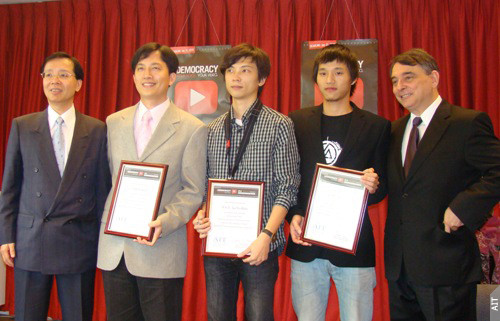 The American Institute in Taiwan announced the short films chosen as Taiwan's finalists for the 2010 Democracy Video Challenge at an awards ceremony on Tuesday, April 20, 2010.
AIT Director William A. Stanton and Taiwan Foundation for Democracy President Huang Teh-Fu together presented certificates and awarded prizes of NT$10,000 each to Ho Sen-Yi, Lin Yu-Sheng and Lai Yu-Yao for their films which were chosen as Taiwan's finalists.
"We thank these young filmmakers for taking part in the Democracy Video Challenge, and for sharing their talents and perspectives with us. Democracy is but one of many key fundamental values shared by the United States and Taiwan, and I am pleased by the level of dialogue on this issue that the Challenge attracted," said Director Stanton.
Last fall, AIT launched in Taiwan the Democracy Video Challenge, a worldwide U.S. Department of State competition. The Challenge asked budding filmmakers, democracy advocates, and the general public to create three-minute videos that complete the phrase, "Democracy is…"
In Taiwan, the Challenge received 17 submissions, and one of the Taiwan finalists was chosen through voting by AIT's Facebook fans, and two of the Taiwan finalists were chosen by a panel made up of representatives of democracy and film-related organizations from Taiwan. There were 470 entries from 88 countries overall this year.
The three finalists' films from Taiwan are now being evaluated by a judging panel in the United States, and are eligible to be chosen as among the finalists for the East Asia and the Pacific Region. The winning videos will be selected by global online voting from May 15 to June 15, 2010. The video platform is provided by YouTube.
The Challenge will honor seven winning videos worldwide: one each from Sub-Saharan Africa, East Asia and the Pacific, Europe, the Near East and North Africa, South and Central Asia, and the Western Hemisphere, and one anonymous video. Winners will be eligible to claim an all-expenses paid trip to the United States that includes screenings of their videos in New York, Hollywood and Washington; meetings with film directors, public officials and democracy advocates from non-governmental organizations; and visits to film sets and TV program sets.
Partners of the Challenge
Taiwan partners of the Challenge include the Taiwan Foundation for Democracy, the Council for Cultural Affairs, the Chinese Taipei Film Archive, the Taiwan Film and Culture Association, SPOT Taipei Film House, National Taiwan University of the Arts, the School of Continuing Education of the Chinese Culture University, and National Taipei University of the Arts. U.S. Challenge partners include the Motion Picture Association of America, NBC Universal, the Center for International Private Enterprise, New York University, USC Annenberg School for Communication, the International Republican Institute and the National Democratic Institute.
For more information about the Challenge, please visit: http://www.videochallenge.america.gov/.