2009-06-17 | Get Ready to Experience "Flavors of the American West"
Get Ready to Experience "Flavors of the American West"
PR-0924E | Date: 06/17/2009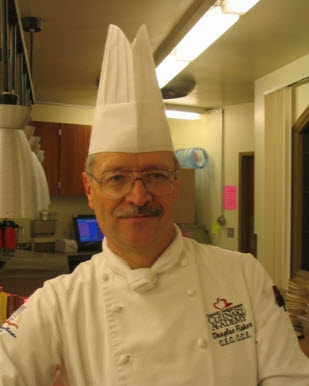 The Agricultural Trade Office (ATO) of the American Institute in Taiwan, in cooperation with the Western United States Agricultural Trade Association (WUSATA), is pleased to announce "Flavors of the American West" a series of promotional activities to introduce Taiwan consumers to the delicious foods and ingredients from the Western United States. Activities will include chef competitions, chef demonstrations, menu and retail promotions, and a visit from WUSATA Chef Doug Fisher.
The first round of chef competitions began on Saturday, June 6, at Chung Hwa University in Hsinchu sponsored by WUSATA and the Formosa Chefs' Association. Competitors in two divisions faced off using American West Coast ingredients, including U.S. beef, natural pork, Alaskan spot prawns and black cod. All the competitors put forth great effort and prepared creative dishes. Finalists won the opportunity to compete at the American Kitchen at the USA Pavilion of the Taipei International Food Show on June 26. The champions from the senior division will appear on CTI TV's "BingBing Hao LiaoLi" cooking show later in the summer, and the winning team from the junior division will win a chance to participate in Asia's First Culinary Cup 2009 in Thailand in October. This team will be sponsored by the Formosa Chefs' Association.
AIT's ATO will launch menu promotions at the Sherwood Hotel in Taipei from June 22 - July 21 and at the Grand Hi-Lai Hotel in Kaohsiung from June 19 - July 3. The Sherwood will be running a new menu featuring a wide variety of U.S. West Coast seafood, including Alaskan black cod, scallops and spot prawn, all served with famous California wines. They will also feature a wide variety of delicious pastries made from fresh West Coast berries, including blueberries, strawberries, and Northwest cherries. The Grand Hi-Lai will also promote American products with a very special light and healthy summer-style menu. Both hotels will participate in a lucky draw promotion, with prizes to include a Delta/Northwest Airlines round-trip ticket from Taipei to any of their destinations in the United States, hotel vacation packages and restaurant gift certificates.
Chef Fisher will fly in from Washington State to help with the new menus and exchange ideas with local chefs, who are very excited about his arrival. In addition to promoting the participating hotels with their new menus featuring fine American ingredients, Chef Fisher will also provide a cooking demonstration at the Kaohsiung Hospitality College for more than 100 aspiring young culinary artists.
Throughout the summer, the "Flavors of the American West" will be coming to local retailers in a series of promotions, beginning with an American products promotion at the Gourmet Wellcome Supermarket in the Miramar Shopping Mall in Taipei from June 19 through the July 4 weekend. Dream Mall's Kaohsiung's Gourmet Wellcome Supermarket will be holding its own American Products promotion, launched with a press conference and an appearance by Chef Doug Fisher on June 20. American fair retail promotions will also be held at Carrefour and Mitsukoshi supermarkets across the island.
Finally, continuous chef demonstrations will be organized at the USA Pavilion's American Kitchen at the Taipei International Food Show held at the Taipei/Nangang Exhibition Center from June 23 -26. A wide variety of American ingredients will be featured in about 20 different cooking demonstrations over the first three days of the show. The final day will be reserved for the final round of the WUSATA "US Food Unlimited Creativity 2009" competition. The Western U.S. Agricultural Trade Association, the U.S. Meat Export Federation, the National Association of State Departments of Agriculture, the State of Alaska Office in Taiwan, and Unitech, a local kitchen equipment importer, will all be sponsoring the American Kitchen and related activities. AIT's ATO will host U.S. exhibitor's reception at the Sherwood Hotel on the evening of June 24 for around 200 important trade contacts to join in sampling the American delicacies that will be featured in the menu promotion.
WUSATA Guest Chef Doug Fisher attended and graduated from the Culinary Institute of America. Since then, he has been teaching Modern American Cuisine to students in Washington State and acting as culinary consultant to the U.S. Navy and many Washington State Agricultural Product Associations. He has great enthusiasm for the art and craft of cooking, and he takes great pride in seeing his students excel. Recently, he has served as a culinary judge with the American Culinary Federation and as a research and development chef through the Culinary Institute. He enjoys travel, most recently spending the summer teaching culinary arts to the U.S. Navy aboard the U.S.S. La Salle stationed off Gaeta, Italy.
Calendar of Events
June 6 WUSATA Chef Competition - "US Food Unlimited Creativity 2009" Venue: Chung Hwa University Ingredients: US Waygu Beef, high quality pork from Washington State, spot prawn and black cod from Alaska, salt from Utah, tortillas from Idaho, etc... Two teams from each group will be selected as finalists, and the final competition will be held on June 26, the last day of the Taipei International Food Show, at the USA Pavilion's American Kitchen.
ATO Contact Person: Cleo Fu
June 17 WUSATA Chef Doug Fisher arrives in Taiwan to help kick off a series of promotions and activities. Lucky draw prizes include: Delta/Northwest Airlines round-trip ticket Taipei to any of its destinations in the U.S.; hotel vacation packages; and restaurant gift certificates.
June 22 - July 21 The Sherwood Hotel Menu Promotion Press Conference: Thursday, June 18 (12:00 p.m.) - Including Chef Doug Fisher's cooking demo ATO Contact Person: Amy Hsueh, tel. (02) 2706-4885 ext. 248
June 19 - July 3 Grand Hi-Lai Hotel Menu Promotion Press Conference: 6/19 (12:00) - Including Chef Doug Fisher's cooking demo ATO Contact person: Amy Hsueh, tel. (02) 2706-4885 ext. 248
June 19 Kaohsiung Hospitality College Cooking Demonstration for 100 students and professional chefs from hotels and restaurants (3:30PM) ATO Contact person: Amy Hsueh, tel. (02) 2706-4885 ext. 248
June Retail Promotions
Dream-mall Kaohsiung (6/27-7/7) Press Conference: June 20 (11:00am) - Including Chef Doug Fisher's cooking demonstration ** Wellcome Gourmet Supermarket inside the mall will conduct sin-store promotion during the promotion period, 6/27-7/7
Miramar Mall (6/19-7/5) ** Wellcome Gourmet Supermarket inside the mall will conduct in-store promotions during the promotion period, 6/19-7/5
Carrefour (7/3-7/23)
Mitsukoshi (6/26 - 7/12) Press Conference: 6/26 (2:00pm) - Including a cooking demonstration by Chef Eddie J. Adams from New Mexico ATO Contact Person: Amy Hsueh, tel. (02) 2706-4885 ext. 248
June 23-26 Taipei International Food Show: USA Pavilion and American Kitchen: This year's American Kitchen is sponsored by: the Formosa Chefs' Association, U.S. Meat Export Federation, the National Association of State Departments of Agriculture (NASDA), WUSATA and Unitech. There will be more than 20 cooking demonstrations during the first three days of the show managed by the Formosa Chefs' Association and featuring U.S. ingredients, followed by the final round of the WUSATA chef competition on the last day of the show. ATO Contact Person: Katherine Lee, tel. (02) 2706-4885 ext. 245