Press Release
2008 American Performing Arts Academy Gala Public Performances on August 15 and 23
PR0849E | Date: 2008-08-12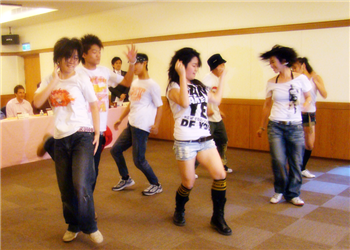 The American Institute in Taiwan, Taipei Municipal University of Education (TMUE) and American Voices, a non-profit organization based in Houston, Texas, are pleased to announce the August 2008 American Performing Arts Academy (APAA). Featuring courses in Hip Hop dance, piano and Broadway performance, the Academy will be held in the Department of Music on TMUE campus beginning August 10. The students and teachers of the Academy will give free gala public performances at 7:30 pm at TMUE's Chung Cheng Hall on August 15 and 23. The address is 1, Ai-Guo West. Rd, Taipei City.
The Academy will be taught by five faculty from New York, Houston and Atlanta, representing prestigious arts education institutions such as the City College of New York, Davidson College and Theater Under the Stars Humphries School of Musical Theater.
"As an aspiring young opera singer, the American Performing Arts Academy has given me the invaluable opportunity to learn a new genre of music that will be important to my future as a singer. The Academy definitely broadened my repertoire and opened new career possibilities for me," said Ching-yao Chen, a young opera singer and competition winner, who participated in a previously-held Academy in Taiwan.
60 students from Taiwan will take part in the Broadway program, 15 in the American Piano Academy and up to 40 in the Hip Hop Dance Academy programs. The participants will range in age from 14 to 40 and represent a cross section of talent from Taiwan's high schools, major universities and performing arts institutions in Taipei, Kaohsiung, Penghu, Tainan, Taichung and Chiayi.
From August 10 to 15, there will be daily Hip Hop and piano classes culminating in a public performance on August 15. The August 15 concerts will feature two programs: Gershwin and Friends-American Piano Music and Hiplomacy-Hip Hop Gala.
From August 16 to 23, there will be daily classes in the American Broadway Academy program culminating in a public performance on August 23. The August 23 concert, Something to Sing About, will feature the five American faculty and the 60 students from Taiwan performing excerpts from Broadway shows such as Guys and Dolls, Rent and many others.
The gala performances are open to all and admission is free.
For more information about the Academy's study and performance schedule please visit: http://apaa.tmue.edu.tw/index.html. More information on American Voices may be found on www.americanvoices.org