Press Release
"Great American Food, Southern Style" Promises to Spice Up This Taiwan Summer
PR0840E | Date: 2008-06-20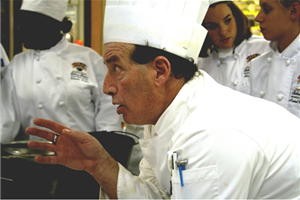 The Agricultural Trade Office (ATO) of the American Institute in Taiwan, in cooperation with the Southern United States Trade Association (SUSTA), is pleased with the success of its "Great American Food, Southern Style" promotion of Southern U.S. cuisine using American food ingredients in Taiwan. Several promotional events this summer, with visiting Chef George Kaslow* from the John Folse Culinary Institute in Louisiana, will spice up the summer. Taiwan will be pulsing with Southern flare!
A June 23 press conference will kick off a menu promotion at the B-one restaurant at Taipei's Sherwood Hotel. The promotion will launch an exciting menu, featuring U.S. products and Southern-style dishes. Don't miss the special barbecued beef, pork, and chicken along with live oysters, and pecan pies for dessert. Chef George Kaslow himself will be present to perform some Southern-style cooking demonstrations. The promotion runs through July 20.
On June 25th, Southern ambiance will descend on restaurants of the Splendor Hotel in Kaohsiung. The Brasserie Restaurant (39F), Tepanyaki Restaurant (38F), 75 Lounge & Grill (75F), Sky Lounge (39F) and Julian's Cafe & Deli (1F) will all hold menu promotions. The events kick off with a June 25 press conference at noon at the Brasserie. Festivities will naturally include country music and Chef George Kaslow working his Southern magic in the kitchen for the enjoyment of all.
The very next day, June 26th, Mitsukoshi department stores island-wide will start featuring U.S. products in their supermarkets. Press conferences will be held at Taipei's Xinyi store at 2:30pm and at the Tainan store at 2:00pm. The fanfare will range from brilliant Southern cooking demonstrations to Hawaiian dances! Mitsukoshi will offer special promotions on healthy American fare including beef, rice, pork, poultry and a wide variety of spicy sauces and seasonings.
Celebrating the birthday of the United States, the Mitsukoshi Xinyi store will host a July 4th American Party at the main gate. The soiree will begin at 5:00pm and will feature entertainment, from ICRT DJs, Southern cooking, country music and even the cutting of a birthday cake. Come join the ATO in commemorating the United States' 232nd birthday!
To top it all off, there will be a lucky draw. As prizes, Northwest Airlines is offering one round-trip ticket to the U.S. and another to Japan. The Sherwood Hotel Taipei and the Splendor Hotel Kaohsiung will offer hotel vacation packages. Lucky draw ticket boxes can be found at the Sherwood Hotel Taipei, the Splendor Hotel Kaohsiung, and any participating Mitsukoshi Department Store. Tickets must be received before July 28, 2008, and winners will be announced on August 1, 2008, on ICRT radio.
Be prepared for a summer of exciting festivities in celebration of great American food…Southern style!
VENUE

PROMOTION PERIOD

LOCATION(S)

Shin Kong Mitsukoshi

Department Stores

June 26 - July 20

Supermarkets

The Sherwood Taipei

June 23 - July 20

B-one

The Splendor Kaohsiung

June 25 - July 31

Brasserie (39F),
Tepanyaki Restaurant (38F),
75 Lounge & Grill (75F),
Sky Lounge (39F),
Julian's Cafe & Deli (1F)
Chef Kaslow earned his Bachelor's and Master's degrees in Hotel and Foodservice Management from Florida International University. He is currently pursuing a PhD in Hospitality Management at the University of Southern Mississippi. He has worked for more than six years as an instructor at the John Folse Culinary Institute in Thibodaux, Louisiana. This school is famous for its Cajun cuisine and preparation of high caliber chefs working out of world class restaurants in and around New Orleans' French Quarter. In addition to his academic experience, Chef George worked many years as a chef at the Windows on the World restaurant in the former World Trade Center in New York City. He speaks fluent Spanish and has travelled extensively in Latin America. He loves Cuban cuisine, but his favorite dish to prepare is Fillet of Beef Wellington, with a brown mushroom demi-glaze. This will be Chef George's first visit to Taiwan.
For more information regarding this press release, please visit www.usfoodtaiwan.org and/or contact:
Agricultural Trade Office American Institute in Taiwan Amy.Hsueh@fas.usda.gov Tel: (02) 2705-6536 Fax: (02) 2706-4885