Press Release
American Indian Film Series at AIT's American Cultural Center
PR0751E | Date: 2007-09-19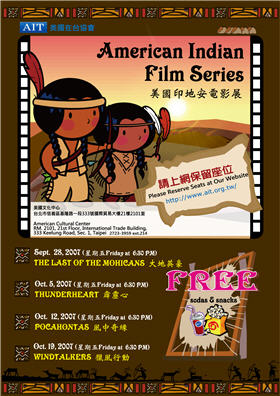 AIT's American Cultural Center will hold an American Indian Film Series featuring four American movies on Native American themes. The program is open to the general public and will take place every Friday night September 28 through October 19 at 6:30 p.m. A short discussion will follow the film showings. The films and discussions will be in English; all films have Chine se subtitles. The movies, snacks and sodas are all free of charge.
The schedule of the American Indian Film Series is as follows:
Friday, Sept. 28 at 6:30 p.m. "The Last of the Mohicans"
Friday, Oct. 5 at 6:30 p.m. "Thunderheart"
Friday, Oct. 12 at 6:30 p.m. "Pocahontas"
Friday, Oct. 19 at 6:30 p.m. "Windtalkers"
Places: American Cultural Center RM 2101, 21F, 333, Keelung Road, Sec. 1, Taipei
Due to limited seating, pre-registration is required. To reserve seats and view synopses of the movies, please visit AIT's website at www.ait.org.tw.
This film series is being organized in conjunction with Edward Curtis' "Sacred Legacy" photo exhibit on display at the National Taiwan Museum through October. 21, 2007, and at museums in Taichung, Tatung and Kaohsiung through the end of January 2008.
Members of the media interested in a high-resolution copy of the American Indian Film Series graphic/image can download it from the following website: www.ait.org.tw/sacredlegacyphotos