Press Release
AIT and Taichung City Government Cooperate in Bookmobile Program
PR0727E | Date: 2007-05-10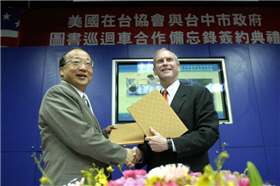 The American Institute in Taiwan (AIT) and the Taichung City Government inked a memorandum of understanding on May 10, 2007 to begin a partnership in the bookmobile program for the period of May 2007 to January 2010.
AIT Director Stephen M. Young and Taichung Mayor Jason Hu signed the memorandum in a ceremony at the American Corner in Taichung.
"Mayor Hu and I are happy to announce that the Taichung American Corner will soon have wheels. In cooperation with the Taichung City Government, the American Corner will have a special youth-oriented American collection in the Taichung Bookmobile." Director Young said in the ceremony.
Under the bookmobile program, AIT and the Taichung City Government will collaborate to create a small American Corner within the Taichung City government's bookmobile, which will provide direct access to materials about the United States, its culture and its society. This program is an extension service of the American Corner in Taichung. It will provide added support to the City Government's goal of further strengthening cultural ties between the people of Taichung and the United States.
Inaugurated on May 7, 2005 and located in the National Taichung Library, the American Corner aims to foster mutual understanding between the people of Taiwan and the United States. The corner introduces users to American society and culture via book and multimedia collections, digital video conferences, internet web chat programs, and various speaker and cultural activities. For more information about the American Corner, please call 04-2226-1105 ext. 765 or visit the website http://www.americancorner.org.tw