Press Release
AIT Joins Wilderness Society of Taiwan For Beach Cleanup on Earth Day
PR0723E | Date: 2007-04-20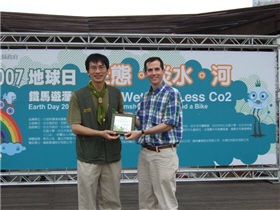 In celebration of Earth Day 2007, the American Institute in Taiwan (AIT) is pleased to join the Wilderness Society of Taiwan for a beach cleanup on the banks of Taipei's Tamsui River on April 22. The site, at Waziwei nature reserve, is an area where urban trash is washed onshore by the river current and tides.
AIT Deputy Director Robert S. Wang and members of the AIT community are pleased to join the beach cleanup to support the efforts of the Wilderness Society of Taiwan to raise awareness of the problems wetlands face, and to help improve the environment in which we all live.
AIT has donated "Bio-Diversity: Nature's Vast, Diminishing Abundance," a poster exhibit to the Wilderness Society of Taiwan for display at the Left Bank building at the Bali Pier on April 22. Following that date, the poster exhibit will be shown at primary schools in Taipei County on a rotational basis.
On April 22, 1970, 20 million people across America celebrated the first Earth Day. Now Earth Day is celebrated annually around the globe. Through the combined efforts of grassroots organizations, citizens, and governments, what started as a day of national environmental recognition has involved into a world-wide campaign to protect the global environment.
Members of the media are welcomed to cover the event. For more information, please call AIT's Public Affairs Section at (02) 2162-2037, or visit the website http://www.sow.org.tw.