Remarks by AIT Director William A. Stanton at the 2010 International Workshop on Strategies for Combating Human Trafficking September 1, 2010
OT-1021E | Date: 9/03/2010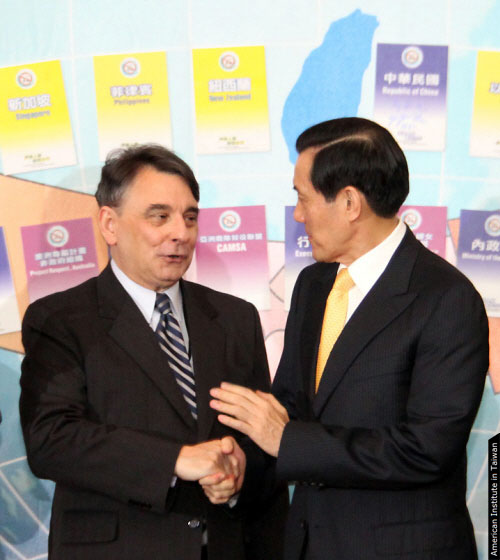 (As Prepared for Delivery)
I am pleased to be here today with Minister Kao and Director-General Hsieh to welcome all of you who have worked tirelessly to combat trafficking in persons, to bring to justice those who profit from forced labor and sexual exploitation, and to protect and help those who are either victims or potential victims of trafficking.
All of your hard work is paying off. This year, Taiwan achieved the highest possible ranking -- "Tier 1" -- in the annual U.S. State Department Trafficking-in-Persons Report. Taiwan was the only one in Asia that moved into Tier 1 this year. Let me offer you here my strong personal congratulations for this terrific accomplishment. Taiwan earned its ranking in clear recognition of its commitment to improve training, to strengthen victim support services, and to expand anti-trafficking partnerships. It also reflected Taiwan's actions to protect victims by providing temporary work and residency permits and by building new shelters; to prosecute traffickers with a new Human Trafficking Prevention Act; and to prevent trafficking by establishing a migrant worker hotline.
These measures will make a huge difference, but let's not forget that there remain an estimated 2.4 million trafficking victims worldwide, more than half in the Asia-Pacific region. For every trafficking victim forced into prostitution, nine people are forced to work. Despite increased awareness of the problem, the estimated number of trafficking victims worldwide far exceeds the numbers of prosecutions and convictions of those who perpetrate this crime. Unfortunately, the abuse and exploitation of human beings for profit remains a relatively low-risk enterprise.
So we have to work harder. We have to be innovative and join hands to battle the scourge of trafficking. With limited resources, government, corporate and NGO leaders already are coming together to find new ways to combat trafficking. In the United States, we have developed a national database of social service providers for the U.S. National Human Trafficking Resource Center's hotline. Taiwan authorities have set up a similar database so that prosecutors and law enforcement across the island can access shared resource lists.
Those are important steps, but much more needs to be done. In the United States, for example, we must improve our outreach to illegal migrant workers, who are often hesitant to approach authorities for fear of deportation. In Taiwan, according to the Council of Labor Affairs, more than 170,000 foreign caregivers and an unknown number of Taiwan domestic workers toil long hours without minimum wages or other basic protections provided to other Taiwan workers.
As U.S. Secretary of State Hillary Clinton said, "Bringing an end to the global trade in people is a priority for the United States in keeping with American values that place a premium on human rights, democracy and the rule of law." These values are not just American values, but values that we share with the people of Taiwan. So we stand by Taiwan's side, by all of you here today, committed to moving forward together. In conclusion, let me wish you all a very successful conference. And keep up the great work!
Director's Speeches
Please click here for Director Stanton's Speeches and Remarks