2010-07-06 | Remarks by AIT Director William A. Stanton AIT Independence Day Reception July 2, 2010
OT-1019E | Date: 7/06/2010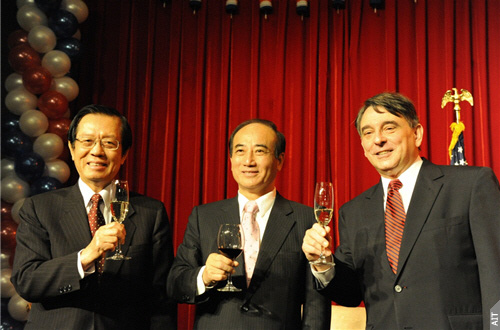 Minister Yang, Secretary General Hu, Speaker Wang, Members of the Legislative Yuan, ladies and gentlemen: Greetings to all!
On behalf of everyone at the American Institute in Taiwan I would like to welcome you here today to celebrate together with us the 234th birthday of the United States of America.
We are very honored to have Minister Yang here with us today to celebrate our National Day. I have known Minister Yang since we both served several years ago as representatives in Australia. At that time, he was already an outstanding diplomat. It is a pleasure for me now to cooperate with him in Taiwan.
We are also very happy we were able to invite the U.S. Navy's 7th Fleet Band's Jazz Combo, under the direction of Petty Officer James Brownell, to share with you a medley of superb American music reflecting the dynamism, diversity and generosity of our nation's spirit. I'd also like to thank the members of the Boy Scouts of America who brought in the colors.
On July 4, 1776, our founding fathers came together and risked their lives for the ideals of democracy and freedom. Each year, Americans gather together in their home towns with their friends, family, and fellow citizens to celebrate the sacrifice our founding fathers.
Today, although I am far away from my home in New Jersey, I can't think of a better place than Taiwan to celebrate this important holiday. Taiwan and the United States are both democracies where the people cherish their freedom and have reason to be proud of all their accomplishments. We must work together vigorously to strengthen our strong and enduring ties.
My first year as Director has been busy and filled with interesting challenges. I have relished the chance to travel all over this beautiful island and meet so many great people.
I would like to offer a toast to the people of Taiwan and the people of the United States, to our shared commitment to democracy, and to our continuing friendship--to the people of Taiwan and the people of the United States.
Director's Speeches
Please click here for Director Stanton's Speeches and Remarks