Official Text
Remarks by AIT Director Stephen M. Young at Charity Dinner "Celebrating the Year of the Ox in Taiwan with U.S. Beef" Grand Formosa Regent Taipei February 8, 2009
OT0901E | Date: 2009-02-09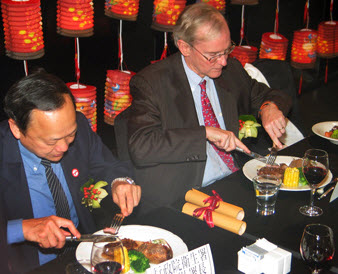 Good Evening and Happy Lunar New Year! Let me start by thanking and congratulating the U.S. Meat Export Federation, for picking such a perfect time - the start of the "Year of the Ox" -- to hold this U.S. beef-themed event.
The U.S. Meat Export Federation represents the U.S. beef and pork industries in overseas markets, and AIT is pleased to support their promotional efforts.
I would also like to commend USMEF for organizing this event to benefit a very worthy cause -- the "Taiwan Fund for Children and Families." As a result, we have a large group of special children the fund is assisting who will help us kick off the Lantern Festival with a lighting ceremony and performance.
In turn, I hope these children and all of you will enjoy eating some delicious U.S. beef that is being served tonight. I'm confident you will, as the United States prides itself on producing and exporting the world's highest quality beef.
Taiwan loves U.S. beef. Nearly three years ago, Taiwan led Asia in re-opening its market to imports of boneless beef. Taiwan consumers have since welcomed U.S. beef, buying a record $136 million worth in 2008. That makes Taiwan our sixth largest market for beef exports and the U.S. is now Taiwan's top beef supplier by value (exceeding Australia for the first time).
While we greatly appreciate this market, imports of U.S. "bone-in" beef and other beef products continue to be banned by Taiwan despite ample scientific evidence they pose no safety risk. In that regard, we were very pleased to see Taiwan's Department of Health (DOH) publish the independent risk assessment it commissioned to review the safety of U.S. beef products.
We believe this study confirms what the international standards body OIE (World Organization for Animal Health) determined nearly two years ago - that all U.S. beef is safe to be freely traded. 300 million Americans can enjoy this beef, and over 60 U.S. trading partners worldwide agree and have re-opened to U.S. beef on an OIE-consistent basis. We are urging Taiwan to do the same, and publication of the risk study should bring us even closer to an early, science-based opening of this market to the full range of U.S. beef products.
In the meanwhile, I wish to thank Taiwan for being such an important and valued customer for U.S. agricultural exports including beef. I would also like to extend my special appreciation to Minister Yeh and his staff for being here tonight in support of this event. We greatly appreciate DOH's role safeguarding the health of Taiwan consumers, while facilitating international trade.
Now let's all enjoy ourselves in the generous spirit of the Lunar New Year season and this charitable occasion. Happy Lantern Festival to you all!
Thank you.
Director's Speeches
2006 -2009