2009-09-18 | Remarks by AIT Director William A. Stanton at Grand Re-Opening of Sun Yat-Sen America Center
Remarks by AIT Director William A. Stanton at Grand Re-Opening of Sun Yat-Sen America Center
OT-0916E | Date: 9/18/2009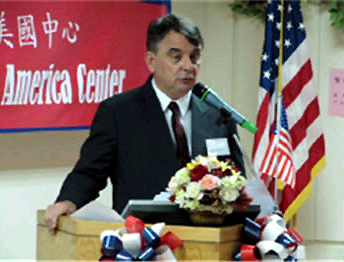 National Sun Yat-sen University President Yang, Distinguished Sun Yat-sen University faculty members, Madame Liu Shi-fang from the Kaohsiung City Government, honored guests and colleagues: Hello, everybody! 大家好!
I am honored to be here today at National Sun Yat-sen University for the grand re-opening of the Sun Yat-sen America Center, the only one of its kind in all of Taiwan. This occasion is very important to us, since it symbolizes the historic friendship and cooperation between the people of the U.S. and Taiwan and our mutual desire to strengthen and deepen our ties.
Since this is my first public statement in southern Taiwan as Director of the American Institute in Taiwan, I first wanted to express my deepest condolences for all those who perished during the devastation of Typhoon Morakot. On September 7, I had the opportunity to attend the memorial service in Kaohsiung for the victims of Typhoon Morakot, and I shared the sadness of the many thousands in attendance who mourned all those whose lives were tragically lost. In the weeks since Typhoon Morakot, I have also been moved by the enormous caring and generosity of the people Taiwan, who have been working together tirelessly to help so many flood-ravaged communities restore, rebuild and renew.
It is in this spirit of renewal that I come to National Sun Yat-sen University today, to salute the efforts of President Yang and his team to energize and expand the America Center located here. AIT is very pleased to see the renewed commitment from National Sun Yat-sen University to ensure that the America Center achieves even greater success in the future.
We are first and foremost grateful to President Yang for his leadership and support. He wisely recognized that the America Center needed a new infusion of support from National Sun Yat-sen University and personally took the measures necessary to secure this support.
The America Center plays a key function in serving as a liaison between American scholars of diverse disciplines and scholars of National Sun Yat-sen University. It provides a tangible focus for National Sun Yat-sen University's study of the United States and a convenient contact point for AIT's academic cooperation with the university. It also offers schools all over southern Taiwan a platform to study and learn about the United States. AIT notes with great pleasure the enthusiasm, dedication, and creativity that America Center Director Dr. Chueiling Shin and her staff have shown in re-energizing the Center in just a few short months. During this academic year, under Dr. Shin's guidance, the Center is planning a major spring 2010 exhibition at the Kaohsiung History Museum on the history of the U.S. presence in southern Taiwan since the 1950's. The Center will also be initiating an International Business Forum focused on American corporations in Taiwan as well as a cultural program on the popularity of American music in Taiwan in the 1960's and 70's. We wish Dr. Shin and her staff continued success and promise to match their enthusiasm with AIT's continued support from our office in Kaohsiung and from my office in Taipei.
As Director of AIT, my responsibilities are island-wide, not just for Taipei. That is why I feel so strongly about the Sun Yat-sen America Center's important role in AIT's outreach efforts in southern Taiwan, helping us to provide a meeting place for the exchange of ideas between America and Taiwan and reinforce the mutual values we share.
Thank you again for coming today and my thanks to you again for supporting the America Center.
Director's Speeches
Please click here for Director Stanton's Speeches and Remarks